Viva la Mexico
Our journey had led us to the Yucatán Peninsula in southeastern Mexico. The peninsula separates the Caribbean Sea from the Gulf of Mexico. Yucatán and especially Cancun is known for its famous spring break parties among Americans. But this beautiful area is of course much more than just partying and unrestrained drinking. Primarily it should be known for the typical Mayan culture and the stunning beaches. But let's start from the beginning…
On our trip through Florida in December we decided to fly over to Mexico to enjoy the better weather. There are some really cheap flights from Fort Lauderdale (FLL) or Miami (MIA) to Cancun (CUN) with JetBlue of American Airlines. The flight time is just two hours, so you're not losing much time. Cancun International Airport is the airport with the most international travelers in Latin America and according to the passenger numbers (17 million in 2014) the second largest in Mexico (after Mexico-City). So Cancun Airport is subjected to the international airports standards and arrival procedures (immigration, customs, luggage, …). After you leave the "official" airport area, you will be asked immediately where your final destination is and if you need a transportation to you hotel. So be sure not to take the first offer and compare prices (even if they don't differ much) and try to negotiate. Try to find other travelers who go the same direction and share a cab and share prices! As we decided Cancun to be our basecamp for our journey in Yucatán we just booked two nights here in a hotel. A trip from the airport to the Hotel Beach Zone (Zona Hotelera) in Cancun takes about 20 minutes and costs us about 35 USD (the driver wanted 60 USD at the beginning). Good thing about Cancun…there are many international standard hotels, so the prices are quite cheap (depends on the season) and the hotels are good. Our hotel had large rooms with balcony and sea view, a large Pool Area with a really close beach access. It also had two restaurants which we didn't use because we wanted to see some local restaurants in the city.
First thing to do in Cancun is to get out of the Zona Hotelera where you nearly can't find a difference to the glamorous US Cities. Too many tourists, too many hotels, too many shops, too many cabs, too many restaurants and definitely too little authentic Mexico. So we took a public bus to go downtown Cancun. We wanted to go shopping on traditional and local markets to find good prices and local stuff, so we picked "Mercado 28". Mercado 28 is located very central and at first we didn't know that this market is also very touristy but it's not so bad like many say. The food court which is actually rather a concatenation of restaurants is good and so we decided to eat fish, drink Sol beer and tequila and strolled around before we headed back to our hotel. The transportation is quite easy to understand and the locals are very helpful.
After a beach day at the hotel we took a cab to Playa del Carmen which is about an hour drive from Cancun. Because you are not dependent on just one taxi company, you can ask different drivers a day before your planned trip and try to book him for a fixed price. In comparison to the airport – hotel trip (remember: 20 min / 35 USD) this trip was really cheap (60 min / 60 USD). Playa del Carmen is besides Cancun another touristic center of the state Quintana Roo on the Mexican Caribbean coast – the so called Riviera Maya. The location is perfect for daytrips because it is just 70 km south of Cancun, 65 km north of Tulum, 180 km east of Chichén Itzá and has a close port to Cozumel. So if you want to explore the East coast of the Riviera Maya, Playa del Carmen is the place to stay. As a touristic center Playa del Carmen has of course also a lot of hotels, but we wanted to stay in our own place and cook ourselves and just enjoy privacy. So we looked up Airbnb and booked a very nice Villa in Playacar – kind of a gated community with beach access. This villa had three floors, a large kitchen, a community pool and enough space for six persons. The close beach near the Reef Marina hotel is really stunning – white sands, great water and not too crowded! After you had some nice days at the beach here is our Must-see-list of Yucatán:
Chichén Itzá
Tulum
Xel-Há
Cozumel
Playa del Carmen
Cancun
Everyone knows the famous Mayan pyramid in the jungle: Chichén Itzá. As mentioned it is just 180 km west from Playa del Carmen, so you can plan a daytrip, take a bus in the morning and be back in the evening. The easiest way to get there is to take a guided tour even we don't like it because we like to be independent and to explore things ourselves. Due to the fact that there are mostly good prices available (in comparison to a rental car) this seems to be the most convenient solution to us. After a three hour bus ride (with some stops at some hotels) we reached the parking lot of Chichén Itzá. Be sure to remember where your bus parked because there are hundreds of busses parking which all look the same! You will be guided to the main entrance and will have to pass the first tourist vendors who will try to sell you overpriced stuff like "your picture on a cup" or "your name in Mayan language on a scarf"– don't fall for it – no one needs stuff like that! The entrance fee is about 5$ which is ok. If you'd like to pay in Peso it might be even cheaper! Once you have entered you will have to walk through the "jungle" to get to the vast open area of Chichén Itzá. First thing you will see is the 30 meter pyramid of Kukulkán – one of the new Seven Wonders of the World! Unfortunately you are not allowed anymore to climb up to the top and enjoy a great view over the forest. But anyway…the scene is stunning! There is much more to explore in the area than "only" El Castillo. Chichen Itza was one of the largest Maya cities, with the relatively densely clustered architecture of the site core covering an area of at least 5 square kilometers.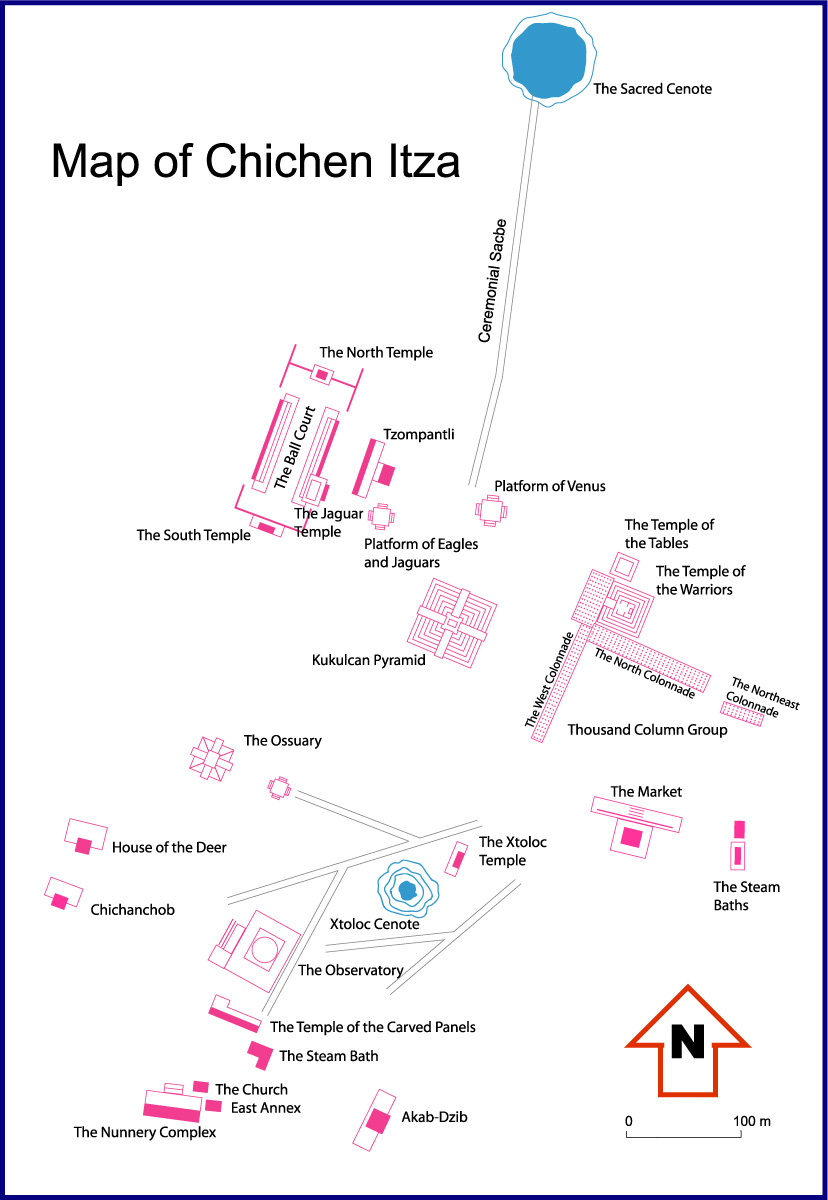 The site contains many fine stone buildings in various states of preservation, and many have been restored. The three best known of these complexes are
The Great North Platform, which includes the monuments of El Castillo, Temple of Warriors and the Great Ball Court,
The Osario Group, which includes the pyramid of the same name as well as the Temple of Xtoloc and
The Central Group, which includes the Caracol, Las Monjas, and Akab Dzib.
As you can see there are many things to do at Chichén Itzá. After exploring the whole field, taking some nice pictures and listened to a guide who randomly talked about the Maya the next stop on the tour was a Tequila farm with the nice Cenote "Ik Kil". So just try some tequila and then take a deep dive into the deep blue and refreshing water of the cenote! For those who don't know what exactly a cenote is, here's a short description: "Cenotes are surface connections to subterranean water bodies. While the best-known cenotes are large open water pools measuring tens of meters in diameter, the greatest number of cenotes are smaller sheltered sites and do not necessarily have any surface exposed water. Cenote water is often very clear, as the water comes from rain water filtering slowly through the ground, and therefore contains very little suspended particulate matter. The groundwater flow rate within a cenote may be very slow. In many cases, cenotes are areas where sections of cave roof have collapsed revealing an underlying cave system, and the water flow rates may be much faster: up to 10 kilometers (6 mi) per day". With this perfect finish our daytrip ends and the bus brings us back to our house.
Another must-do – if you're interested in foreign cultures – is the ancient Maya city of Tulum. In our opinion Tulum is an even more mystic place than Chichén Itzá. It has been one of the last cities inhabited and built by the Maya. The ruins of the temple are situated directly on a hill above the sea, facing the sunrise. The area is much smaller than Chichén Itzá so you can discover it very easily and even combine your trip to a beach day. Even if there are a lot of tourists as well it doesn't feel overcrowded – it felt more comfortable somehow.
If you need to relax after those sightseeing days…no problema en Yucatán! There are lots of possibilities to enjoy your holiday…you might just want to hang loose in a hammock or have a great day by the sea. If you want to do both, we suggest going to Xel-Há Park! The aquatic theme park is about 50 kilometers south of Playa del Carmen (so again: Playa del Carmen is a perfect location for daytrips!) and fulfills all wishes you could possibly have – water, sun, beaches, food, hammocks, nature, fish, birds, bikes, tubes, … So you can buy a ticket (regular price: 89 $, but look for discounts or book online!) and spent all day in this nice waterpark. In this price foods, drinks, snorkeling gear and tubes are included, so you don't have to worry about cash in the park! Be sure to take a camera with you (maybe something like a GoPro to take pictures under water or from the tube or ropes) and have fun! There are more waterparks in the area like Xcaret or Xplor but we've just tried this one and found it was a great idea!
Last but not least you should definitely go to the beautiful island of Cozumel which is also perfectly reachable from Playa del Carmen. Just go to the harbor and buy a return ticket to the Island. After only 40 minutes by ferry you arrive in Cozumel. There are a lot of tourists of course coming from the mainland but as the island is nearly 160 square kilometers big, it gets lost. Around the arrival area of the ferry terminal there are the most tourists
because there are shops, cafés, bars, markets and stuff, but it's all overpriced! We suggest you rent a car or a bike for a day (don't take the first rental company on your way and especially not on the ferry– try to walk a bit inside of town and take a cheaper company!). Prices are higher than on in Playa del Carmen or Cancún because these rental companies do have kind of a monopoly here. If you compare prices you surely will find a good one! So we got an old VW Käfer convertible (year around 1980) which was very nice (even the clutch didn't work well and the car was very rusty) because we had a great vintage feeling. Driving the long coastal roads out of the city with an old rusty convertible, no goal in mind, just let the wind and the sea breeze blow you mind…Ok enough of that hippie-stuff…anyway it was really cool and we could find some nice spots with a very quaint reggae bar on the sea. Have some food, drink some beer, listen to good music and then go back to the harbor where your (or any) ferry waits for you to bring you back to Playa del Carmen. Even if this was not a spectacular daytrip, the recreation/exploration and fun factor was very high. We really enjoyed this day on the Island!
The last few days were just relaxing in the house, at the pool and at the beach before we took a cab back to the airport in Cancun. Be sure to order the cab before and to negotiate a price. When arriving at the Cancun International Airport everything went fast and fine and we took off just in-time towards home! We have to say that the Yucatán Peninsula is definitely a trip worth – you just can find everything you need for a great holiday: sun, beach, water, interesting culture, good food, good drinks, partypeople, nature and of course very kind people!